We welcome the New Year with enthusiasm as our activities continue.
Check out our Program! Become a member!
This is our 62nd year of learning, fellowship and advocacy.
See our 2017/18 Brochure.
Join us at our March 15 General Meeting with guest Susan Fohr,
Education Programs Coordinator
History of the Textile Museum of Canada

CFUW Leaside – East York brings women together from across East York, and beyond to socialize, learn and advocate to:

Improve the status of women & girls, &
Promote human rights, public education, social justice and peace.
We are one of over 100 CFUW (Canadian Federation of University Women) local clubs across Canada. Learn more about our club and CFUW.



We welcome all women who share ou

r purpose. 
Our
Program
and
Activities
run from September to May. Check our
Membership
information. Visitors are welcome at our monthly meetings.
 
News & Highlights of Recent events.
For more, see us on Facebook !
We support CW4WAfghan with our annual Afghan Pot Luck Dinner, coming up April 17.
See this recent article by Sally Armstrong that highlights how this NGO supports educating girls and women to change their world. (Seeds of Hope, Toronto Star, Sat. Jan. 6)
February 15 General Meeting
Women of the 19th Century: Beautiful, Dangerous,Courageous
Barbara Rusch shared interesting tales and ephemera, and highlighted the lives of two very famous 19th Century women.
January 18 General Meeting: Decluttering Advice from the Downsizing Diva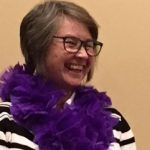 Karen Shinn helped us deal with 'Our Stuff' in an informative and entertaining way.
Downsizing Diva is a service offering downsizing and moving help for seniors.
January 12: Meeting with Michael Coteau, MPP, Don Valley East


Three of our members met with The Honourable Michael Coteau in his constituency office to discuss issues important to our club and CFUW: Early Learning and Child Care which continues to be very expensive in Toronto; Workplace initiatives such as the Gender Wage Gap; Affordable Housing; Child Poverty.
The Dec. 7 Wassail Party was a success: great food; good company; a successful fundraiser for the YWCA women's shelter.
Thank you to our fundraiser incentive sponsors:
Dolly Jewellers &
Janice Mitchell, Royal LePage Real Estate Services Ltd., Brokerage
November 25, Orange Day
International Day for the Elimination of Violence Against Women.
Great speakers & we learned a lot.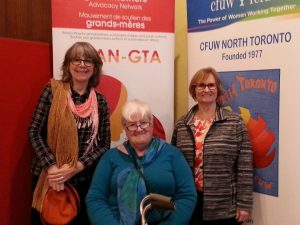 November 16 General Meeting
Famous Canadian Women highlighted by Sandra Bea Harries. 
October 19 General Meeting 

Guest Harriet Wolman inspired us with her accomplished and fascinating career, and her passion for making a difference. As a retired judge of the Refugee and Immigration Board, she informed us of her work and experiences, providing insights into the challenges faced both by the new arrivals and the Board staff.
October 4, 2017
Members attended the Sisters in Spirit Vigil to honour the lives of missing and murdered indigenous women & girls.
Sponsored by the Native Women's Resource Centre of Toronto.
September 21 General Meeting
Helping Women Build New lives After Violence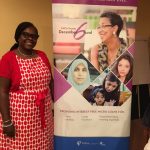 Dela Aziavor, YWCA Toronto, presented on:
the YWCA December 6 Fund which provides interest free loans to women who escape violence.
Grand Finale! AGM and Dinner at the beautiful Donalda Club, May 11.
Toronto Birth Centre Tour, April 24.
This centre offers traditional care during labour and birth.  There are three birthing rooms: Birch, Ash & Cedar. A Tenant of the Seventh Generation Midwives, Toronto.
Equal Pay Day was Tuesday April 11 in Ontario. We Wore Red!
The Equal Pay Coalition's noon hour rally at Queen's Park, College & University.
March 31: members meet with Arthur Potts, MPP, Beaches – East York
On the Agenda: Early Learning & Child Care and the Gender Wage Gap

March General Meeting


Our guest was Kathy English, Public Editor, The Toronto Star. We learned about the history of The Toronto Star, journalism standards, maintaining quality, the challenges of publishing a daily in different media platforms, the demise of the community newspaper, and, of course, the issue of 'fake news'.
Honouring Missing and Murdered Indigenous Women
Photos of Métis artist Jaime Black's installation along UofT's Philosopher's Walk.
Wednesday March 8, 2017   IWD – Be Bold for Change!

February General Meeting
We welcomed Olivia Walsh, co-winner of the 2016 Agnes Macphail Public Speaking Contest who delivered her winning speech on homelessness, and local Toronto historian Joanne Doucette who enlightened us about Toronto's Shacktown, 1907-1908.
Equal Pay Day is coming up April 11, 2017!
Members of our Club at the Jan. 21 CFUW Ontario Council Meeting: Closing the Gender Wage Gap.
January General Meeting
We were entertained by Bruce Bell with tales from the history of 'Toronto the Good'.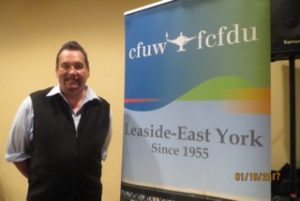 Advocacy: On the Agenda
January meetings with two of our local MPs to promote:
Universal, Publicly Funded, Affordable Early Learning & Child Care (ELCC) &
Electoral Reform – a Proportional Representation model.
Fun & Fundraising at our annual Wassail Party, Dec. 8! Highlights included…
Draw in support of the YWCA Women's Shelter. A special thank you to our co-sponsors Dolly Jewellers and Janice Mitchell, Royal LePage, who provided fantastic draw prizes. Over $1400 was raised to offer some seasonal cheer for the women and their families in the shelter.
Entertainment by a Capella quartet The Current.